05-03-2009
The building
It was not the same architecture as in France, the high school looked like a rectangle, it had no real shape. This high school had three floors, and it seemed that each floor was devoted to a grade because most of the time our exchange students stayed on the same floor.
Many of the class doors had a small window so we could see inside the class.
In the corridor they were lockers. The lockers are very important in Canada, students put everything in their lockers : jackets, food, pictures, mirror, books, bags . . .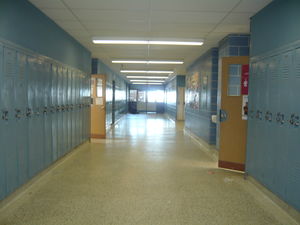 Inside the building of the school there were 3 sports rooms where they could practise badminton, soccer …
Schedules :
Canadians have 2 classes from 8:05 am till 11:30 a.m then they eat from 11:30 am to 12:30 and they have classes again from then till 2:30 pm. This schedule is repeated from Monday till Friday. They thus, have relatively short schedules. After school, they are free to do whatever they want. They can stay in the hallway or go back home.
Professors :
Canadian professors are relatively cool, they supervise less the pupils than in France they are less strict . As opposed to France, a teacher can teach one or 2 subjects.
Subjects :
The pupils choose part of their subjects each quarter, they are free to change those subjects, if they pass, from one quarter to the next. They have some subjects very different from ours such as cooking or teaser (drama) but they also have history geography, mathematics, English, French and of course sports, what is very known in Canada.
School Bus
Every morning we took the school bus to go to school.
The school Bus was a yellow bus like in the old american movies.
It was very funny to take these yellow buses.
Indeed the roads were not really flat so the bus made us jump on our sites. There was not really security in theses buses.
There was a specific stop for each student , the bus stopped in front of our house.
The school buses are useful for people who live far from the high school (like in Moonstone or Coldwater).
Lunch
The students eat between 11:30 and 12:30.
They have many options for their lunch:
they can buy their lunch at the cafeteria , they can live school to eat at a fast food place (like Mr.Sub) or they can bring their own lunch at school. (so they have to cook the day before).
There is no system like us with cards for the self in the high school , but only a cafeteria to buy their lunch.
If they eat at the cafeteria they have to bring their money everyday.
School trip
A few months ago, 10th grade students went to Europe , for a "Europe trip" , they visited Nice , Cannes , Italy ...
According to a few people we interwied , they loved Europe and especially Italy.
After school:
School finishes at 2.30 pm so they have a lot of time to work or have fun.
And we found out that they spend much more time having fun than working!
Indeed after school, some of them have some activities like Football, Hockey, Rugby... until 4pm
and the others have fun with their friends , they go to the cinema , hang out with their friends and sometimes they do their homework.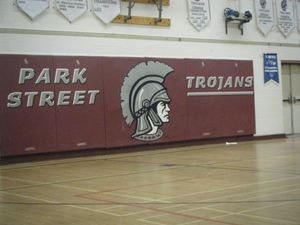 Sports
Many sports are offered by the school. You can play football, rugby , hockey, you can dance....
They have 2 gymnasiums, 2 outside grounds and many sports equipments.
Sometimes we can see students in the hall who are running up and down the stairs.
The girls and the boys are separated when they play sports in class.
We can see a few girls running in the hallway and 5 minutes later a few boys running as well.
They are very concentrated, it's very important for them, they like sports more than French students.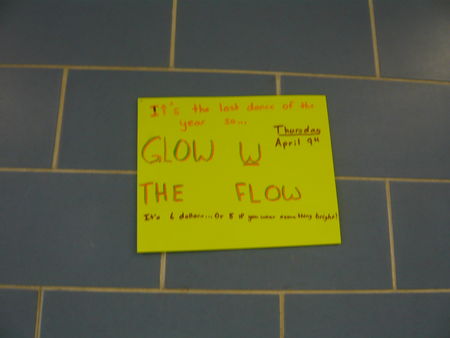 Dances
What we were most looking forward to : the dance that every French has seen in famous American series.
In fact in Canada they organized many bals not only one for the end of the year.
When we were in Canada we were supposed to go to a dance, finally it was cancelled and postponed to the day after our departure. This dance was organized by the school president like all the other dances, it was a black and white dance.
Contrary to France those dances are very important and people who go to those dances wear dresses or suits : they can buy their outfits or simply rent them .
But there are no bands, just a DJ.
The dances are quite expensive, around $10, so not everybody can go and sometimes the price dissuades the teenagers.
Prom, the bal of the end of the year is reserved for the people who are in grade 12.
The nursery
The nursery was the thing which shocked us the most. In fact in the high school there was a nursery where teenagers can leave their babies during their classes and take them back when their day is over. It's a service for those young girls, to help them keeping an usual life. This nursery is free, because girls have already lots of money to spend because of their babies.
In Park Street Collegiate there were almost 20 babies in the nursery.
TABLE OF THE DIFFERENCES BETWEEN
THE CANADIAN AND THE FRENCH SCHOOL SYSTEM:

======>>>>>> gy_gyo_fgyo_vfot_k<<<<<<<<=======
Commentaires sur School